Karl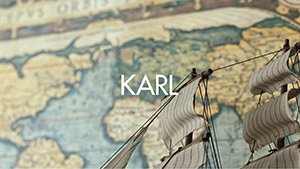 | | |
| --- | --- |
| Genre | Kurzfilm |
| Director | David N. Koch |
| Runtime | 19:21 Minutes |
| Language | Deutsch |
| Format | Cinemascope/4K |
| Year | 2019-2020 |
| Country | Deutschland |
| Number | 095 |
Karl's retired life is determined by fixed routines. But apparently something else is going on inside him: images emerge on the walls, telling stories of his life. One day he finds a bag with a call for clothing donations on his doorstep. Karl (Charles Brauer) decides to give the clothes of his late wife. But the pain about his loss resurfaces and a new struggle begins.
A short film co-produced with Cookie Film GbR from Leipzig, DNK Arts and Media from Cologne and in co-production with Filmwerkstatt Chemnitz and in cooperation with Chemnitz Fernsehen.
The film was shot in summer 2019 in Chemnitz (Germany) and in Enkhuizen (The Netherlands) with the great Charles Brauer in the leading role. Post-production, which included quite elaborate hand-drawn animations, a touching soundtrack and sound design appropriate for a cinema, then took a little longer than planned due to the pandemic. But in autumn 2020 we were finally able to complete the film.
Our small but unbelievably committed team has managed to create a short film that is really worth seeing, with a lot of love and heart and soul, and which is now eagerly waiting to finally be shown on a cinema screen. Let's hope that it will be soon...
The project was funded by the BKM, the Cultural Foundation of the Free State of Saxony and the Sächsische Landesanstalt für privaten Rundfunk und neue Medien (SLM).