Hiwwe wie driwwe - The roots of PA Dutch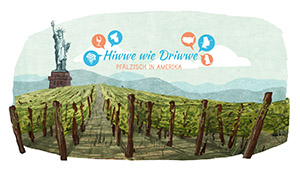 | | |
| --- | --- |
| Genre | Dokumentation |
| Director | Christian Schega, Benjamin Wagener |
| Runtime | 91:00 Minutes |
| Language | Deutsch, Englisch, PA-Dutch, Pfälzisch |
| Format | Full-HD |
| Year | 2016-2019 |
| Country | Deutschland, USA |
| Number | 074 |
400,000 Americans speak a Palatine dialect? In the documentary film "Hiwwe wie Driwwe" by Benjamin Wagener and Christian Schega, Douglas Madenford, born and raised in Pennsylvania, goes on a search for traces in his homeland and the Palatinate. Doug meets many people and learns what is left of the Palatine language and culture in America and how it has developed "hiwwe wie driwwe", here in Germany and over in America.
A film about the Palatinate dialect in America goes on premiere tour through the Palatinate and the Electoral Palatinate regions of Germany.
Two filmmakers from the Palatinate looked for them and found them - the relatives in America. Around 400.000 people live there and not only speak an old form of the Palatine dialect, Pennsylvania (PA) Dutch, but also follow other Palatine habits such as eating pig stomach or hunting Elwetritsche. One of them is the Pennsylvanian-born author and musician Douglas "Doug" Madenford. In the film he explores traditions of Palatine culture "hiwwe wie driwwe", here in Germany and there in the USA.
Producer and director Christian Schega: "We are very much looking forward to the premiere of the film on April 13, 2019 in Landau. Doug Madenford from the USA will also be attending this special event. Finally we can present the film to a large audience and then go on a cinema tour through the Palatinate. Already during the research and shooting people have shown great interest on both sides of the Atlantic. We are very curious to see how the film will be received by the audience.
HIWWE WIE DRIWWE accompanies Douglas Madenford on a search for the roots of PA Dutch through his American homeland and through the Palatinate. On this trip he meets a cook in America who prepares pig stomach and an instructor who teaches PA-Dutch. In Germany he meets the linguist Dr. Michael Werner, who has been working intensively with PA-Dutch for many years, and Christian "Chako" Habekost, who as a Palatine comedian and also known beyond the borders of the Palatine linguistic area.
Producer and director Benjamin Wagener: "When I first read about people speaking our home dialect in America, I could hardly believe it. I wanted to know more and after a lot of research I found out that there was no film about it either. We had to change that."
About 300 years ago many people from the Palatinate fled from political persecution as well as for economic reasons to the USA and settled mainly in and around Pennsylvania. They brought their language and culture to the "New World". Both have survived to this day in large parts.
The documentary HIWWE WIE DRIWWE (90 minutes) is a search for traces of the Palatine language and culture - in Germany and America. World premiere is on April 13th 2019 in Landau, afterwards a cinema tour leads through further cinemas in the whole Palatinate language area: Germersheim, Grünstadt, Pirmasens, Neustadt, Kaiserslautern, Mannheim (further places in planning). The official cinema launch is on 18.4.2019. In June and July the team will also present the film in the USA in several locations. Dates for that will be released soon.
Background: The two Palatinate filmmakers Benjamin Wagener (direction, producing, camera, editing) and Christian Schega (direction and producing) have been working together on HIWWE WIE DRIWWE since 2015. In 2017 it was shot in the USA and Germany. The project was supported by the Kulturstiftung Rheinland-Pfalz, the Bezirksverband Pfalz, the Sparkassen Stiftung Germersheim-Kandel and numerous crowdfunders. Further information can be found at: www.hiwwewiedriwwe.com